3D Print File: Cassini
High-Gain Antenna Assembly
Download Free of Charge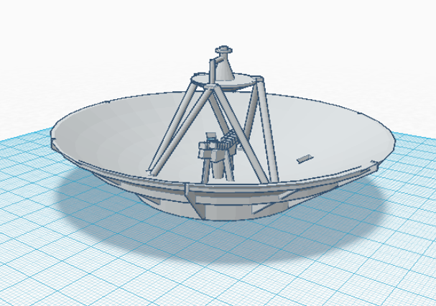 Caution: Attempt at your own risk; this object has not
been tested successfully as of 2013 November 8.
Comments welcome (see below).

This High-Gain Antenna dish assembly (HGA) will add a whole lot of realism to the Free Downloadable NASA Cassini Spacecraft paper 1:37 scale model, which is available here, and depicted at the lower right.
The paper HGA on the model is its weakest link as far as accurcy of its visual appearance. This file incorporates the HGA main reflector, its external bracing, central tripod, subreflector, low-gain antenna, waveguide, and the complex central feed assembly that serves Cassini for communications, radar, and radio science. It also includes the two sun sensors, which sit behind their holes in the main reflector. All these components are integrated into one printable object. Compare with the visual appearance of this 3D graphic image of Cassini.
This 3D print component is still undergoing testing at SCI, but the testing is going well, so we decided to go ahead and make it available for download a little early in the process. The image shown above is the electronic Computer-Aided Design view; we don't have a photograph yet of the physical object. If you print this 3D object and use it on your Cassini 1:37 scale model, please let us know!
Note: Additional 3D print files for components of the Cassini 1:37 scale model will be available later from SpacecraftKits.com.
Download Free of Charge
For printing using FDM, it requires a dual-extruder machine; external and internal support material is generated, which must be printed using a soluble plastic so that it can be removed without damaging the delicate component structures. Print using white ABS or PLA plastic, and high-impact polystyrene (HIPS) soluble plastic for support. HIPS is soluble in limonene.






Download Here Free of Charge
.STL Download an .stl file ready to send to your printer. Left-or-right-click (depending on your setup) on the link below to select "Download Linked File" (or equivalent) from your browser options:

Cassini-HGA-7.stl
FILE IS 442 KB

NOTE: If your computer changes the filename extension, change it back to ".stl" after downloading.
Settings:
This object may be entirely printed at its intended size on an 8-inch (20.5 cm) square platform; height is 40mm.

Select millimeters, SI units, metric, if your 3D printer asks you.

Under "Object Placement," be sure to center the object on the platform, and drop it to the platform height (or adjust to optional substrate height, e.g. a mirror).

Select 0.15 mm layer thickness (resolution) on your printer or slicer software for best results.

Try "25% fill" on your printer or slicer software.
---
Keep in touch!
---


PAGE UPDATED 2013 NOVEMBER 8