Keck Telescope Display Dome
For your assembled Keck Telescope Space Craft SCIENCE Kit
Order code: KDISP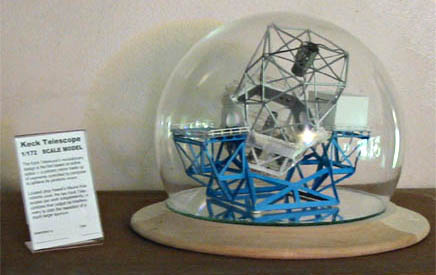 Display your Keck Telescope Space Craft ® SCIENCE KIT in fine style while protecting it from dust and wear.
The photo above shows an assembled Keck Telescope SCIENCE KIT displayed within its Keck Telescope Display Dome. Base and placard frame are NOT included, however the placard text card is included. See below for suggested sources.
Set the model that you have carefully assembled (kit sold separately) inside this close-to-scale size observatory dome made of clear acrylic. The display's shape is designed to capture and repeat important visual cues from the actual Keck Observatory's domes. Compare with the photo of one of the Keck Observatory's domes, below left, courtesy Roger Ressmeyer/Cobris.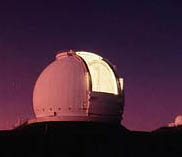 Your display dome is an 8-inch diameter spheroid clear acrylic dome which has a vertical seam that is barely noticeable, and a small injection-mold nub on top which is also easily overlooked. These have been polished out for minimum visibility. The bottom of the dome is a circular seven-inch diameter opening that readily permits lowering the dome carefully over your assembled model. No adhesive is suggested; Earth's gravitation is sufficient to keep your display intact. The bottom of the display dome is not polished. It has roughness on the order of 1 mm in height.
One source for a circular wooden base is WalnutHollow.com. Their 9.5-inch diameter round basswood plate appears in the photo above. You might also consider adding a circular mirror to enhnce your display, as shown above. One source for such mirrors is here. Here's a source for a bent acrylic frame for displaying the placard text.


View the Keck Telescope Space Craft SCIENCE Kit's Fact Sheet and Presentation Guide.
---
Keck Telescope Display Dome
Price: $29.95 each.

(Does not include the Keck Telescope Space Craft SCIENCE Kit itself, which is sold separately)
Free shipping within the U.S., Canada, and Mexico. Within the U.S., you may select Priority Mail during checkout ($10.50).

For other countries, please submit a separate order. This will include $10.50 during checkout for international shipping and handling. A separate order is required because we ship the Dome in a small box that costs just over $10 for airmail postage, but is not large enough to contain any SCI Kit models. See also the "How to Order" button below.



PAGE UPDATED 2013 JUNE 10