3D Print File: HGA Assembly
For Voyager and Magellan SCIENCE Kits
Order code: STL-HGA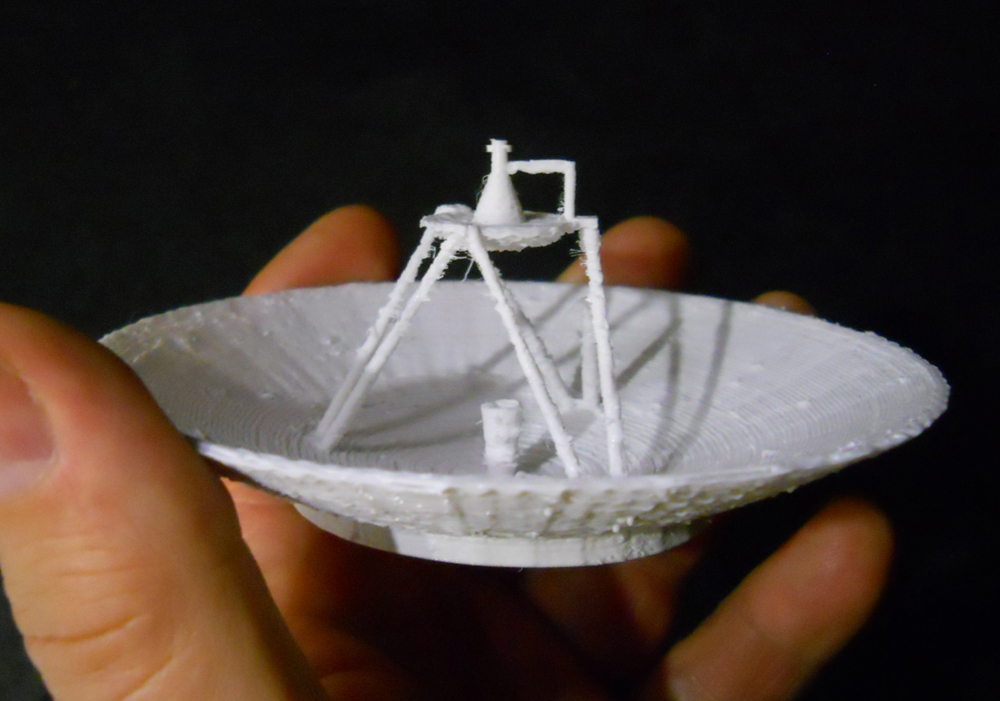 This is a photo of a 3D-printed High-Gain Antenna (HGA) assembly. It is the correct scale for both the Voyager and the Magellan Space Craft SCIENCE KITs, which are sold separately. It is also the correct scale for the free Cassini model, but the feedcone in the center does not replicate Cassini's more complex feed array.
This file, when printed and glued to the Voyager or Magellan SCI Kit during assembly, replaces the high-density styrofoam HGA component, as well as the laser-cut tripod, the feedcone halves, the low-gain antenna, and the subreflector halves.
This high-gain antenna (HGA) print file offers some important visual advantages over the high-density styrofoam component that comes with the Voyager SCI Kit (VSK) and the Magellan SCI Kit (MSK). The main reflector is paraboidal, which is more accurate than the spheroidal shape of the styrofoam HGA. It also has a more accurate thickness, which is especially visible at the edge of the dish. Integrated into one printed piece are: six-strut tripod, subreflector, feedcone, waveguide, and low-gain antenna. The main reflector has a hole for the sun sensor assembly.
There are some challenges. The printed part is heavier than the styrofoam-and-paper HGA assembly (25 grams vs 3 grams), so it may place constraints on how you can display your model. The piece is very delicate, so one of the requirements is that you use a soluble support material such as high-impact polystyrene (HIPS) for support, which is soluble in limonene. The image above shows the piece after supports have been dissolved away. Depending on your process, the part may also require some careful use of sandpaper to clean it up (the image was taken before sanding). This is a good article for advancing your skill with 3D printing, but you may also wish to consider contracting out the printing. If you do, be sure to specify millimeters instead of inches where applicable. The main reflector dish is 108 mm wide.
$0.99 to download.
FILE IS 279 kB (HGA-7.stl)
Printing Guidelines:
For printing using FDM, this component
requires a dual extruder machine; support
material is required. White ABS plastic
recommended for the part, and soluble
high-impact polystyrene (HIPS) for support.
Settings:
Select millimeters, SI units, metric, if your 3D printer asks you.

This object may be printed on a 4-inch (10 cm) square platform.

Be sure to center the object on the platform, and make sure it fits, before printing.

Select 0.15 mm layer thickness (resolution) on your printer or slicer software.

Select 25% "fill" on your printer or slicer software.

---
The Voyager and Magellan Space Craft SCIENCE KITs are sold separately.


PAGE UPDATED 2013 OCTOBER 18