3D Print File: Keck Telescope
Elevation Ring
Download Free of Charge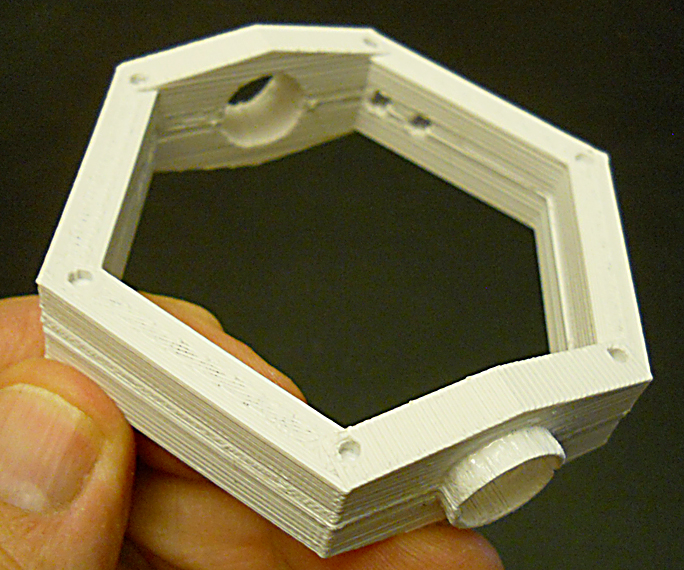 This Elevation Ring component will make it easy to achieve a nicely aligned Keck Telescope SCI Kit model. The file contains half of the Elevation Ring. Print it twice and then glue the identical upper and lower halves together. The picture above shows the two identical halves of the component printed in ABS plastic and welded together using a few drops of acetone.
The laser-cut paper design for the Elevation Ring that is included in the model kit is perhaps the most crucial to get perfectly assembled, because the Upper and Lower Telescope Tube components rely on it for their alignment. Assembling the laser-cut paper Elevation Ring requires about twenty steps, and they can all be skipped if you use this 3D-Print version of it.
Circular depressions on the top and bottom of the component make it easy to attach the Upper Telescope Tube (which is also available for 3D printing!) and the Lower Telescope Tube.
Easy to print
For printing using FDM, this requires only a single-extruder machine; no support material is generated. Print twice and glue the halves together. Total plastic used is roughly 13 cm3. Use any plastic and apply paint as needed: the exterior should be white and the interior black.






Download Here Free of Charge
.STL Download an .stl file ready to send to your printer. Left-or-right-click (depending on your setup) on the link below to select "Download Linked File" (or equivalent) from your browser options:

KSK-ElevationRingHalves.stl
FILE IS 53 KB

NOTE: If your computer changes the filename extension, change it back to ".stl" after downloading.
Settings:
This object may be printed on a 4-inch (10cm) square platform; object height is 13mm.

Select millimeters, SI units, metric, if your 3D printer asks you.

Select 0.15 mm layer thickness (resolution) on your printer or slicer software for best results.

Try "25% fill" on your printer or slicer software.
---


PAGE UPDATED 2014 JANUARY 27