All About 3D Print Files from SCI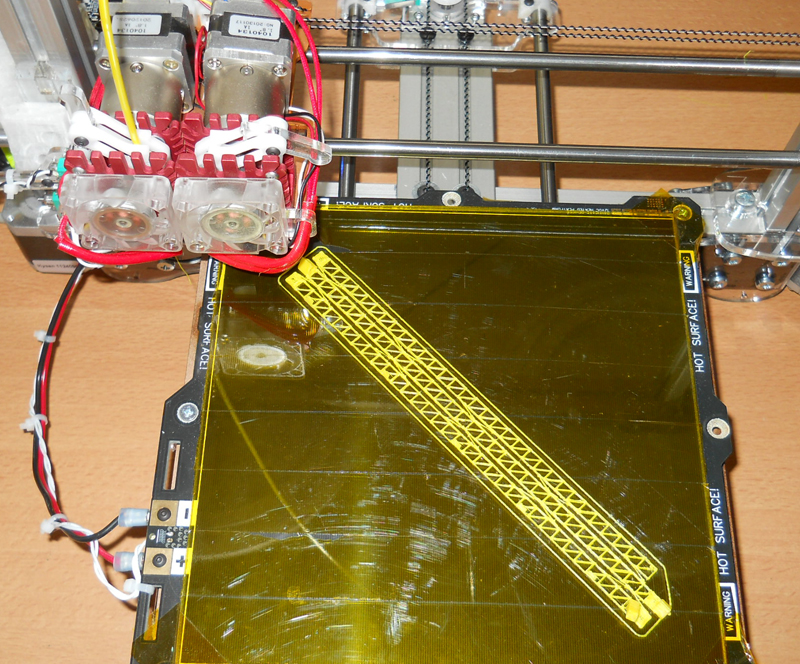 Scale modeling enthusiasts now have a stunning new technology at hand, thanks to the desktop manufacturing industry.

Desktop 3D printers are now available from many manufacturers, ready to operate or as kits, for roughly the cost of a good text/graphics printer. There are also many start-up companies that plan to offer exciting new models.

In 1987 when SCI began producing spacecraft scale model kits, we were pushing the leading edge of commercially available laser-cutting technology with our requirements for highly detailed and intricate component designs. Now we are excited to be pushing that leading edge once again, this time with products in a whole new wave of technology: 3D printing!




One example is "The Cube" from Cubify.com (click to view their website), owned by 3DSystems. But if you don't have a printer at home, school, or work, you can send a file to be printed by any of a growing number of service providers, using a variety of materials including metals, at a variety of prices.
"3D Printer" means "fabricator."
It's a machine that produces a physical object based on a computer file. Very expensive versions have been around for years, employed for rapid prototyping in various industries. The new inexpensive cutting-edge machines for use at home and at school employ FDM: Fused Deposition Modeling (also called Fused Filament Fabrication, FFF). This is an additive manufacturing technique, as opposed to the subtractive technique such as CNC (computer numeric control) machining or milling, which removes material from a block to create a piece.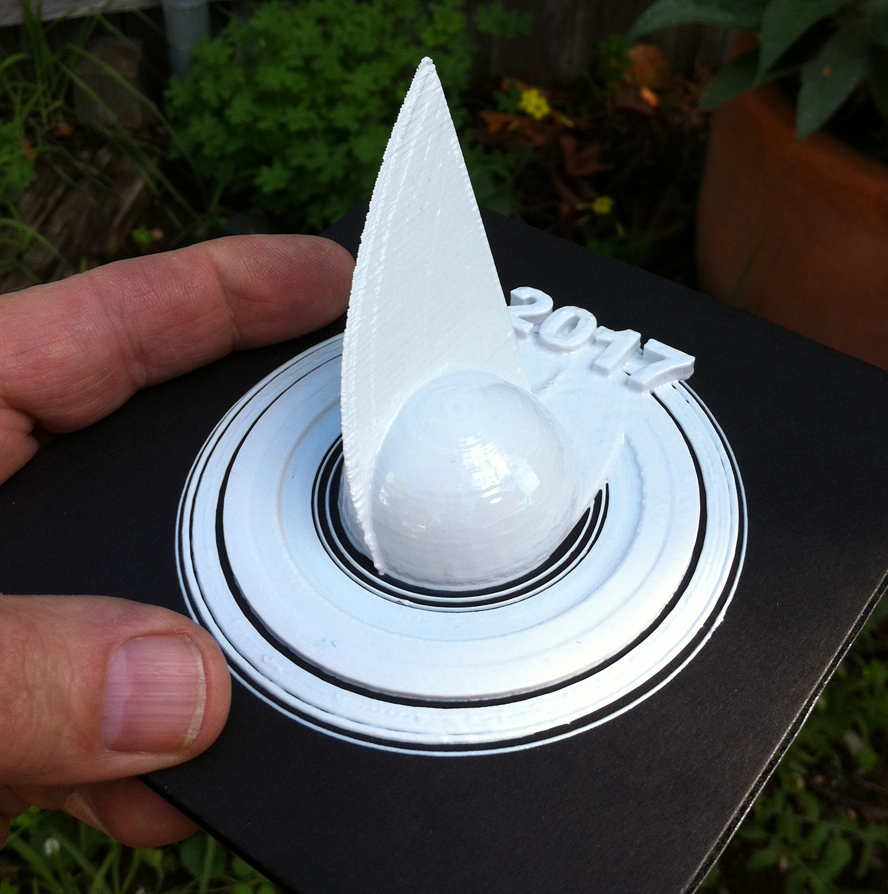 THE "SAIL" ON THIS FREE-DOWNLOADABLE PRINT OBJECT ILLUSTRATES CASSINI'S PROXIMAL ORBITS IN 2017, WHEN THE SPACECRAFT WILL REPEATEDLY PLUNGE BETWEEN THE D RING AND THE ATMOSPHERE GOING OVER 121,000 km/h.

You can think of FDM as a very fine hot-glue gun under computer control. It extrudes melted plastic onto a platform while the extruder moves along three axes, X and Y in the horizontal, plus Z in the vertical.

Our well-known Space Craft SCIence Kits are made of recycled card stock that has been laser-cut into lightweight structures to replicate those of lightweight space exploring machines. Some of their components would serve better, though, if they were made of plastic. For example, the Voyager SCI Kit includes a long trusswork boom whose delicately laser-cut paper structure can warp over the years in a high-humidity environment. Another example is the Voyager and Magellan high-gain antenna dish assembly; laser-cut paper falls short. Thus SCI has begun to develop and test 3D computer files that generate high-quality parts for SCI Kits, as well as objects useful for other projects. They're all available for you to download and use on your 3D printer. For all our 3D printed parts, we strive for realism as well as ease of assembly.



About the .STL Files
The files we offer for direct 3D printing are .stl files. Originally "STL" stood for "stereo lithography," and that is still a valid term, though the machines that use .stl files to create objects may use various other technologies and go by various new names nowadays. All these technologies can print .stl files. When you download an .stl file from this website, you can probablly print it out using any brand of 3D printer, however we have tested them using mostly the FDM technology — the most popular kind. (The HGA Assembly file has also been tested using the Objet photopolymer technology.) The large image near the top of this page shows SCI's 3D printer. It's a Bukobot 8 Duo, a dual-extruder FDM machine that prints using any of several types of plastic. In the photo, it has just finished printing a Voyager magnetometer boom piece in yellow ABS plastic.

All .stl files from SCI can be printed at 100% size on an 8-inch (20.5 cm) printer platform. The HGA .stl files can be printed on a 5-inch platform.



About the .SCAD Files

CLICK TO ENLARGE. SATURN IS MADE BY RESHAPING A SPHERE; THE RINGS ARE CONCENTRIC CYLINDERS. Rs STANDS FOR RADIUS OF SATURN.

These are source-code files written in OpenSCAD, which is one variety of Computer-Aided Design (CAD) software for creating printable 3D objects. You use it by writing line-of-code specifications and compiling them. OpenSCAD software is free and available for Linux/UNIX, MS Windows and Mac OS X.

The .scad files that SCI offers are generously commented to help you see how the object is designed (click the excerpt at right to see a sample), and all may be downloaded free of charge (see below). They may be edited and re-distibuted freely under the license "Attribution & Share Alike 3.0", so long as the original author is credited; if derived creations are published, they must be licensed only under the same license as this one (or under one having at least these provisions). Required attribution is www.SpacecraftKits.com.

In contrast to the line-of-code oriented OpenSCAD CAD software, another approach is exemplified by the freely available TinkerCAD. The human interface for TinkerCAD is entirely a GUI, graphical user interface, and is very intuitive to learn. There are many other CAD ssytems, many available to use free of charge. Finally, just to round out the picture, Thingiverse is a must-visit site for obtaining files for printing all manner of objects that have already been created from CAD or scans of physical items and are available for download.



About G-Code Files
This paragraph is included to complete the discussion about file types. G-codes are specific to the printer itself, so the ones SCI has to offer are intended only for Reprap machines in general, and a Bukobot in particular. In the grand scheme of things one creates a 3D object using a computer-aided design (CAD) program, or perhaps from a laser-scanner. OpenSCAD, which generates .scad source files, is a perfectly good CAD program but there are many others. The CAD program outputs an .stl file, which can then go to the printer or be offered for download from some website. Once you bring the .stl file into your printer, some software that is bundled with your printer will "slice" the object and generate a list of instructions that directly operate the extruder positioning and operation, and every other parameter your printer needs. Slic3r is one of these programs; there are others. They output files with the extension .gcode. The .gcode file is the only file your printer needs; some printers accept SD memory cards for conveying the .gcode for a particular print job.

There are many, many parameters that a user can use to configure the slicing software for a particular printed object; some of them can be critical for properly rendering an SCI-quality printed object. Suggestions are provided on for each object offered by SCI, under "Printing Guidelines" on each of the pages linked from below. But all these parameters can be ignored if you download .gcode files and use them on the printer for which they were intended. Having said all that, here are the .gcode files that SCI offers free of charge.





PAGE UPDATED 2014 JANUARY 11