Toy Model of Mars Pathfinder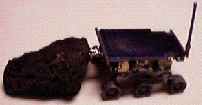 Mattel, Inc. produced a nice "Hot Wheels" version of the Mars Pathfinder Lander (Sagan Memorial Station) and Sojourner Rover. It was Mattel Product number 016145, retail price approximately $6 from Mattel's retailers. They have exclusive rights to the Pathfinder designs, so SCI never designed any. Retailers always found the Rover model hard to keep in stock due to high demand. Now it's a rare collectable.

Mattel also offered a gold-plated Rover which was handsome, but had none of the coloring that details the plain version. It is immobile. Mattel's Product Number for the gold-plated version was 017987. Retail price was approximately $38 from Mattel.

SCI was always unsuccessful in attempting to obtain the rover Hotwheels toys to offer customers.

The image, by the way, shows the Mattel Rover with its APXS (Alpha-proton X-ray spectrometer) sniffing a "Mars" rock (the rock came from the summit of Mauna Kea... it's not included in the Mattel package, you have to supply your own!). The colors in this photo aren't very good. The rover model has a bright metallic blue solar panel on top, and the rock is really much redder!

Mattel also produced a Galileo Hot Wheels toy. SCI was also unable to obtain them to offer.