Keck Telescope SCIENCE KIT Fact Sheet

Part 2. Keck Telescope Light Path
INCOMING LIGHT SHOWN IN YELLOW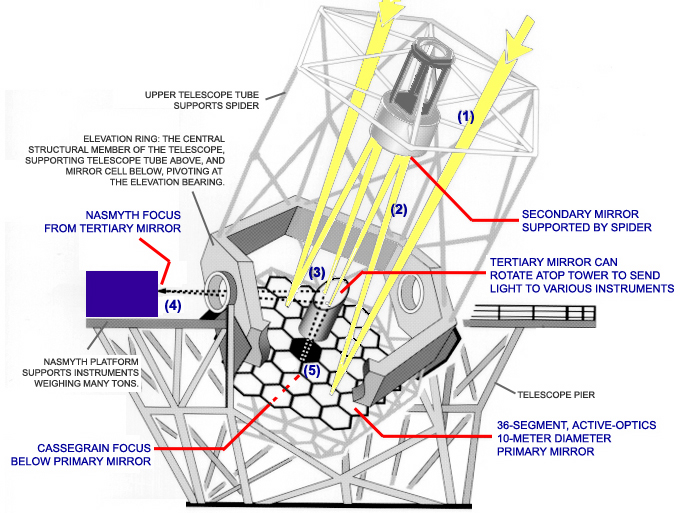 Light Path: Incoming light (1) is shown first on its way to the primary mirror; reflected off the concave hyperboloid primary, converging on the convex hyperboloid secondary mirror (2); reflecting off the secondary, back down toward the flat tertiary mirror (3), and finally reflecting off the tertiary and achieving focus at an instrument at one of two possible Nasmyth focal points (4), or with the tertiary mirror removed, achieving focus at an instrument behind the primary mirror at the Cassegrain focal point (5). Not shown above are four additional Bent Cassegrain focal points that can be selected by rotating the tertiary mirror: there are four additional holes throgh the Elevation Ring structure where instruments can be mounted on platforms that are represented on your model.

Light collected by Keck I and Keck II from the same target can be used in interferometric observations that obtain resolution equivalent to an aperture the size of the seperation between the telescopes, a baseline of 85 meters. To accomplish this feat of optical engineering, lght is picked off each telescope's tertiary mirror, and it follows additional mirrors along the path shown above in red, to the Beam Combining Room in the observatory's basement.
The Keck Interferometer is part of NASA's Origins Program, an effort to find planets beyond our solar system. Visit this site for a thorough tour of the Keck Interferometer and the Keck Observatory.



Go on to Part 3. Keck Telescope Segmented Primary Mirror
Back to Part 1. Highlights of The Keck Telescopes

| SCI HOME PAGE | CATALOG | HOW TO ORDER | GREAT SPACE LINKS |