The Mars Polar Lander
Space Craft SCIENCE Kit
Order code: MPL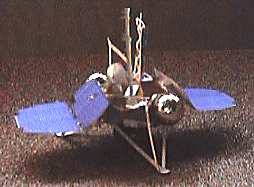 This one is the smallest, simplest, easiest SCIENCE Kit to assemble. Above is a photograph of an assembled Mars Polar Lander Space Craft SCIENCE KIT. The model is 1/32 scale, measuring about 11 cm (4.5 inches) from solar panel to solar panel. This kit is also different in that it does not have a fact sheet or presentation guide included. All the information about the Mars Polar Lander mission is available here on the web.
This Mars Polar Lander model closely replicates the Phoenix Mars Lander that touched down on May 25, 2008 near the Martian north pole. The solar panels are a little different. Be sure to visit NASA's Phoenix website.
Phoenix represents NASA's successful second attempt to land in the Martian polar region. Here's a link to an illustration of the first-attempt spacecraft, Mars Polar Lander, showing all its major parts. And this is an artist's conception of how MPL was intended to look on the surface of the red planet. Mars Polar Lander failed to land during its attempt and was lost on Mars in 1998.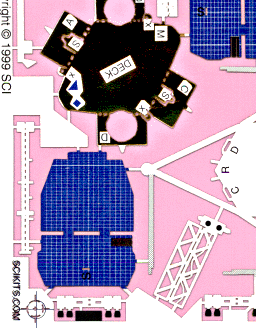 A close-up of some of the MPL kit's parts is shown at right. We placed a piece of pink paper behind the parts sheet to scan the image, so everywhere you see pink is where the paper has been vaporized from the parts sheet. There is a lot of gold metal foil applied to the part labelled "DECK" to simulate the appearance of the spacecraft. The gold didn't show up very well in this scanned image, though. You can't see its specular reflection, and it looks a little green in the scanner's image.
There are only eleven laser-cut parts to this kit. You need to supply white glue (or a hot-glue gun if desired) and two 1/2-inch diameter spheres to represent Mars Polar Lander's propellant tanks. Crumpled foil works well for these. For the model in the photo, we used tiny Christmas-tree ornaments.
View the MPL Kit's Assembly Instructions.
---
The MPL Space Craft SCIENCE KIT is FREE...
...when requested with your order of two or more of the other Space Craft SCIENCE KITs. Note: Even though the software lets you place MPLs your shopping cart, it will only be shipped when your order includes two or more of the other SCI Kits (and not more than one MPL will be shipped per order).

---
Space Craft SCIENCE KITs are designed and made in the U.S.A. using state-of-the-art processes and the highest quality recycled materials. Space Craft SCIENCE KIT packages are perfectly suited for first-class mailing.








PAGE UPDATED 2013 JUNE 10