11. ATTACH THE HIGH-GAIN ANTENNA TO THE SPUN BUS.
View the whole assembled model
Apply glue to the T-shaped top of the HGA SUPPORT, and place the HGA and BUS SUNSHADE onto it. Rotate so that the small U-shaped marking on the outside of the BUS SUNSHADE lines up over the outer end of the STAR SCANNER. Make sure the HGA is centered on its support. Let the glue dry, then apply a little more if necessary.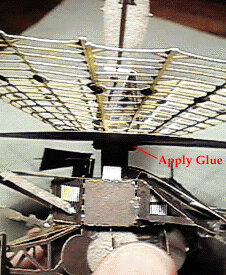 ---
| GO ON TO THE NEXT STEP |
| INSTRUCTIONS FIRST PAGE |
| SCI HOME PAGE |