Galileo SCIENCE KIT
Assembly Instructions
Version 4.3 For the SCI Web Site

A. YOU'LL NEED THE FOLLOWING:
Small scissors, such as manicure scissors, to clip parts from the parts sheets.

Wooden toothpicks for applying glue.

Glues. Use regular white glue (Elmer's Glue-All or equivalent). You might also try a thick white glue, sold in art and fabric stores, called "TACKY GLUE" (Aleen's or equivalent).

A 35mm film can would be convenient to support some parts while gluing.

Space. Set up a well lighted, comfortable work area, with room to set glued parts to dry.

Time. Plan to set aside several hours for unhurried assembly.

Patience. While some parts of this kit might assemble easily due to its advanced design, there may be some trying times. Extra time and care will pay off with a surprisingly accurate, and handsome representation of NASA's Galileo, a very complex spacecraft.

Optional: Spherical propellant tanks are represented in your model by intersecting flat parts. For more realism, you might want to locate or fabricate some 3-dimensional objects to replace them in your model.

Sections marked with a * may be accomplished at the same time if two or more people are working on assembly, or if you wish to work on one section while glue dries on another.

Optional: You might find it good to use an electric hair drier to set the glue in some places. If you do, be very careful not to blow the pieces apart.
B. BEFORE BEGINNING ASSEMBLY:
Unfold the Fact Sheet to the diagram of the spacecraft under "Galileo Spacecraft Description" and use as a reference during assembly.

Examine the three parts sheets and read the names of all the parts.

Read all the instructions. Compare model parts with diagrams.

Notice the RELEASE POINTS to be snipped to remove parts. Identify HINGES which join HINGE POINTS DIAGRAM segments of some parts for folding.





Get your bearings: this diagram defines directions used in the instructions.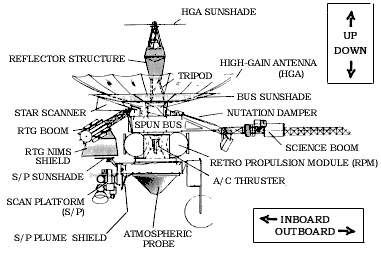 View the whole assembled model

---
C. TO ASSEMBLE YOUR MODEL:
Click on each step below for illustrated step-by-step instructions.
14. Optional PRA/PWS Wires
The only part of your model which is not in scale is the PWS ANTENNA, out at the end of the MAG BOOM. Scale length would be about 17 cm or 6.75 inches, very difficult to model accurately here in Earth's gravity well. If you have an idea for mounting and displaying your model which could support the antenna, obtain an appropriate length of thin wire. Make a bend of 30 degrees at the center. Go out about halfway from the center on each side, and bend 15 degrees up. Replace the paper PWS ANTENNA with this wire. Please note: DO NOT install wires if your intended use of the model might present any possible hazard of eye injury.
D. YOU'VE FINISHED YOUR GALILEO MODEL.
Now that you're familiar with the names of all of the spacecraft's major structures, and some of its instruments, the enclosed fact sheet will point out the rest of the instruments, and explain what everything on the spacecraft is for. The Presentation Guide contained in the kit suggests ways to simulate Galileo's space flight operations activities, in case you want to do so.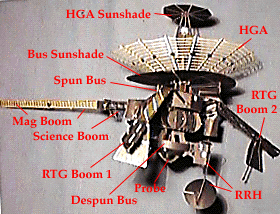 E. ABOUT YOUR GALILEO MODEL:
It is made of 100% recycled paper (Halopaque Satin 60 lb cover). Your model's scale is approximately 1/45. The optional PRA/PWS antenna wires are much thicker than scale. The MAG BOOM very accurately represents the fiberglass structure on the spacecraft, but it can support itself in one G, while the spacecraft's boom cannot. At this writing, the HGA on the NASA Galileo Spacecraft has not been successfully deployed to the dish-shape represented on your model. Some of the ribs are stuck to the REFLECTOR STRUCTURE, near the top, and are likely to remain that way throughout Galileo's mission lifetime. There is (probably) no good way to simulate this partial deployment on your model.
SCI Space Craft International
P.O. Box 61027 Catalina Station
Pasadena, California 91116-7027 U.S.A.

Space Craft (tm) SCIENCE KITS are made in the U.S.A. using recycled materials and advanced processes. Copyright (c) 1997 SCI Space Craft International
---


Sections marked with a * may be accomplished at the same time if two or more people are working on assembly, or if you wish to work on one section while glue dries on another.
---
| TOP OF THIS PAGE |

| SCI HOME PAGE |