The Galileo Space Craft SCIENCE Kit
Order code: GSK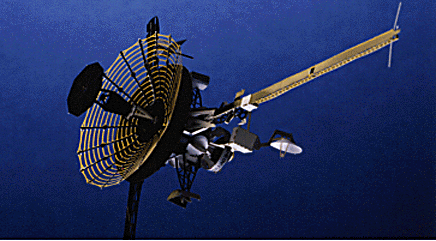 This is a photo of an assembled Galileo Space Craft SCIENCE KIT. In December 1995, the Galileo Spacecraft achieved orbit around Jupiter after almost six years' flight through the solar system to get there. The atmospheric probe it carried sucessfully plummeted into Jupiter's atmosphere, measuring and communicating all the way. SCI's model of this most complex of NASA's robotic spacecraft brings you ever closer to the Jovian mission of exploration. The model is made of 100% recycled paper.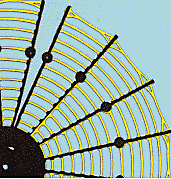 The black color of much of the model has been lithographed onto the parts, to represent Galileo's thermal control coloring. Circular sunshades can be seen, one at the top of the antenna structure, one larger one behind the antenna. These shaded major spacecraft parts from the Sun while Galileo was looping through the inner solar system for gravity assist. The metalic gold on the model's longest boom (Galileo's magnetometer boom) represents the gold sunshade which protected the boom in close to the Sun. Galileo has several other gold sunshades, and, of course, so does the model! Just a bit to the lower right of center in the picture, you'll see a small, white, circular antenna dish. This dish, on Galileo's despun section (which is moveably represented, and explained in the kit), tracked the atmospheric probe which Galileo had released into the giant planet's atmosphere. The probe, removeable in the model, is located at the end of the spacecraft (on centerline) opposite the umbrella-like high-gain antenna. The gold tip of the probe can just barely be seen in this photo. The high-gain antenna, a large umbrella-shaped feature which failed to properly deploy on the actual spacecraft, is represented with amazing fidelity. A quadrant of the model's high-gain antenna part is shown in the smaller image above, which we scanned in front of a blue background, to show you the laser-cut detail typical in the model. This circular part folds up into a graduated cone which approximates the antenna's (nominal) paraboidal shape fairly well.
The Galileo kit has 38 laser-cut parts. Assembled model is about 12 inches (32 cm) overall. Scale is approximately 1/45.

View the Galileo Kit's Assembly Instructions.
View the Galileo Kit's Fact Sheet.
The NASA Galileo Project offers a FREE Galileo model designed by SCI's designer.
---
Space Craft SCIENCE KIT Price:
$12.95 each.

Only the model parts are shipped. Assembly Instructions, Fact Sheet, and Presentation Guide are accessible here on the website.

Free shipping within the U.S., Canada, and Mexico. For other countries, $10.50 is added to the order total for shipping and handling.

Space Craft SCIENCE KITs are designed and made in the U.S.A. using state-of-the-art processes and the highest quality recycled materials.

PAGE UPDATED 2014 OCTOBER 13