The Space Craft SCIENCE Kit
High-Gain Antenna (HGA) Component
Order code: HGA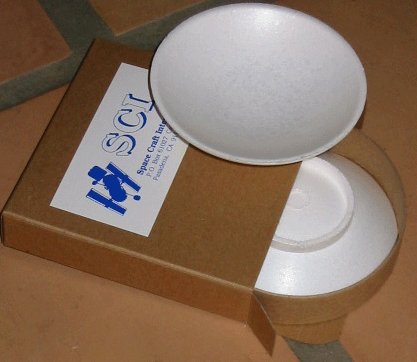 The Space Craft SCIENCE KIT HGA (High-Gain Antenna) scale model component is already included as part of each order for the Voyager and Magellan kits. Offered separately for your other modelling projects. It is shown above with one of its various packaging options, suited for mailing as a single piece.
This high quality article is made of high-density stryofoam in a special high-pressure steam molding process to ensure smooth surfaces. It has the visual appearance of the HGA on NASA's Voyager (outer soplar system) and Magellan (Venus) spacecraft, for which it serves at a scale of 1/30.
It can easily be incorporated into NASA's free Cassini scale model, for a scale of 1/37, giving the finished model a more professional appearance.
It may also be used in NASA's new Deep Space Network 34m Station model at 1/250 scale. In the latter, it can be used as the central part of the kit's Main Reflector, which would then extend out past the syrofoam HGA.
Unlike most actual High-Gain Antennas, this article has a spehical reflector shape, rather than parabolic. It is difficult to notice the difference visually.
---
Price:
$4.95 each. For quantities of ten and more, please inquire.

Free shipping within the U.S. For other countries, $10.50 is added to the order total, to cover shipping and handling.

Space Craft SCIENCE KITs are designed and made in the U.S.A. using state-of-the-art processes and the highest quality recycled materials wherever possible.




PAGE UPDATED 2013 JUNE 10