The Mars Global Surveyor Space Craft SCIENCE Kit
Order code: MGS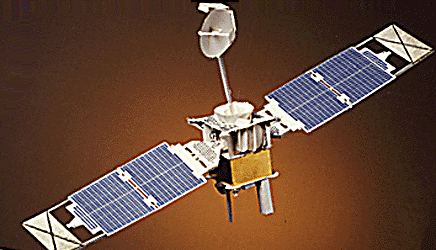 This is a photograph of an assembled Mars Global Surveyor Space Craft SCIENCE KIT. Actually, it's an advanced prototype, made with the final laser-cut proofs, and with manually applied detailing (it's the same photo you'll find on the front of the MGS kit package). The production model is a little more detailed, and more cleanly executed, than the prototype shown here. The model is 1/40 scale, measuring 38 cm (15 inches) in its largest dimension, which includes the solar arrays and aerobraking panels. The actual Mars Global Surveyor Spacecraft launched in November '96, and is currently on its way to Mars. The instructions included in the kit show how to assemble the model into any one of five different flight configurations.

The model has large areas of gold metal foil applied, for example covering the spacecraft bus, the high-gain communications antenna, and the nadir panel which holds scientific instruments intended for scanning Mars. Silver metal foil is used to represent the primary mirrors of the Mars Orbiter Camera (MOC), and the Laser Altimeter, as well as the MOC secondary mirror (it's a cassegrain telescope). Silver metal foil is also used to represent the radiator panels on the spacecraft bus, and details on other instruments.
One of the solar panel arrays is shown at right. We put a sheet of pink paper behind the laser-cut parts sheet to show the detail cut into the part. There's a gold metal foil clad aerobraking drag flap supported by a couple of arms at the outboard end of the solar array, which appears at the bottom of the image to the right. The gold doesn't show up very well with our scanner, but it is a little better seen in the color photograph at the top of the page.
There are parts included inside the model which are no longer visible once assembly is complete. The reason for this, of course, is so that you'll know the spacecraft inside and out when you build the model.

View the MGS Kit's Assembly Instructions.
View the MGS Kit's Fact Sheet.
---
Space Craft SCIENCE KIT Price:
$12.95 each.

Only the model parts are shipped. Assembly Instructions, Fact Sheet, and Presentation Guide are accessible here on the website.

Free shipping within the U.S., Canada, and Mexico. For other countries, $10.50 is added to the order total for shipping and handling.

Space Craft SCIENCE KITs are designed and made in the U.S.A. using state-of-the-art processes and the highest quality recycled materials.


PAGE UPDATED 2013 JUNE 10