10. ATTACH THE RPM TO SPUN BUS.
View the whole assembled model
Apply glue to the tops of the tanks on the RPM (opposite the side labelled SBA). Line up the THRUSTER BOOMS to stick straight out in the direction of the two arrows on the bottom of the SPUN BUS. Line up the RPM's octagon concentric with the SPUN BUS's octagon as seen from below. Secure the RPM to the SPUN BUS with more glue if necessary.

At this point you may want to fashion some sort of stand with a hook to hold your model.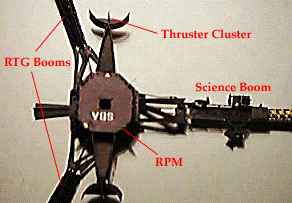 ---
| GO ON TO THE NEXT STEP |
| INSTRUCTIONS FIRST PAGE |
| SCI HOME PAGE |