1/37 SCALE MODEL OF LIGHTSAIL-1
ASSEMBLE YOURS NOW BASED ON THESE INSTRUCTIONS
Version 2.8 Online at http://SpacecraftKits.com/lightsail
ARTIST'S CONCEPTION OF THE LS-1 SPACECRAFT; CLICK IMAGE TO ENLARGE.
If you enjoy building small scale models, this is for you!
The Planetary Society's LightSail-1 Spacecraft launches into Earth orbit as a very small package. It comprises a three-unit "CubeSat" module, based on a standard that has evolved to become the basis for a widely accepted nanosatellite designs. You can find out more about these designs here. Remarkably, each single-unit CubeSat module measures only 10 cm on a side, so its volume is one liter. LightSail-1 measures 30 cm long by 10 cm wide by 10 cm deep, a configuration known as 3U. The whole spacecraft's mass is 5 kg, including the sails (5 kg is about 11 lb; you can convert centimeters to inches here).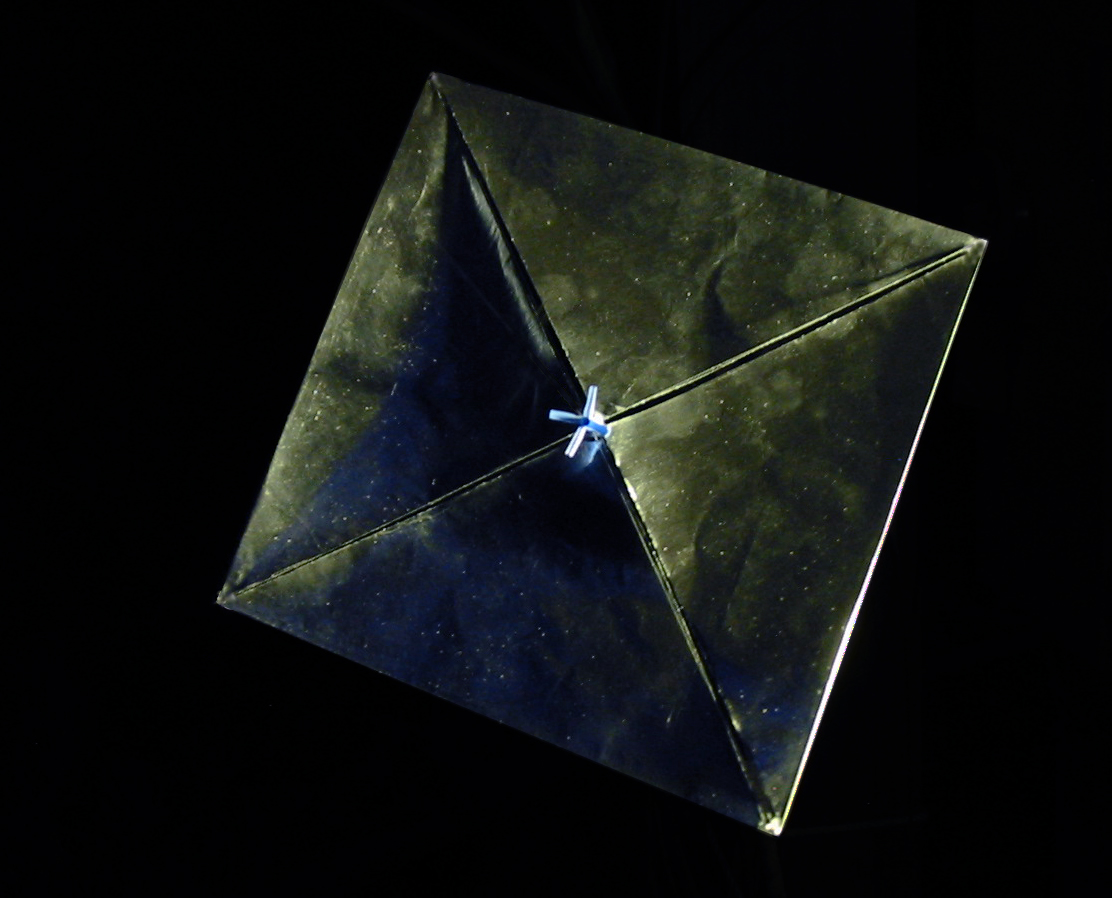 ASSEMBLED LIGHTSAIL-1 1/37 SCALE MODEL; CLICK IMAGES TO ENLARGE.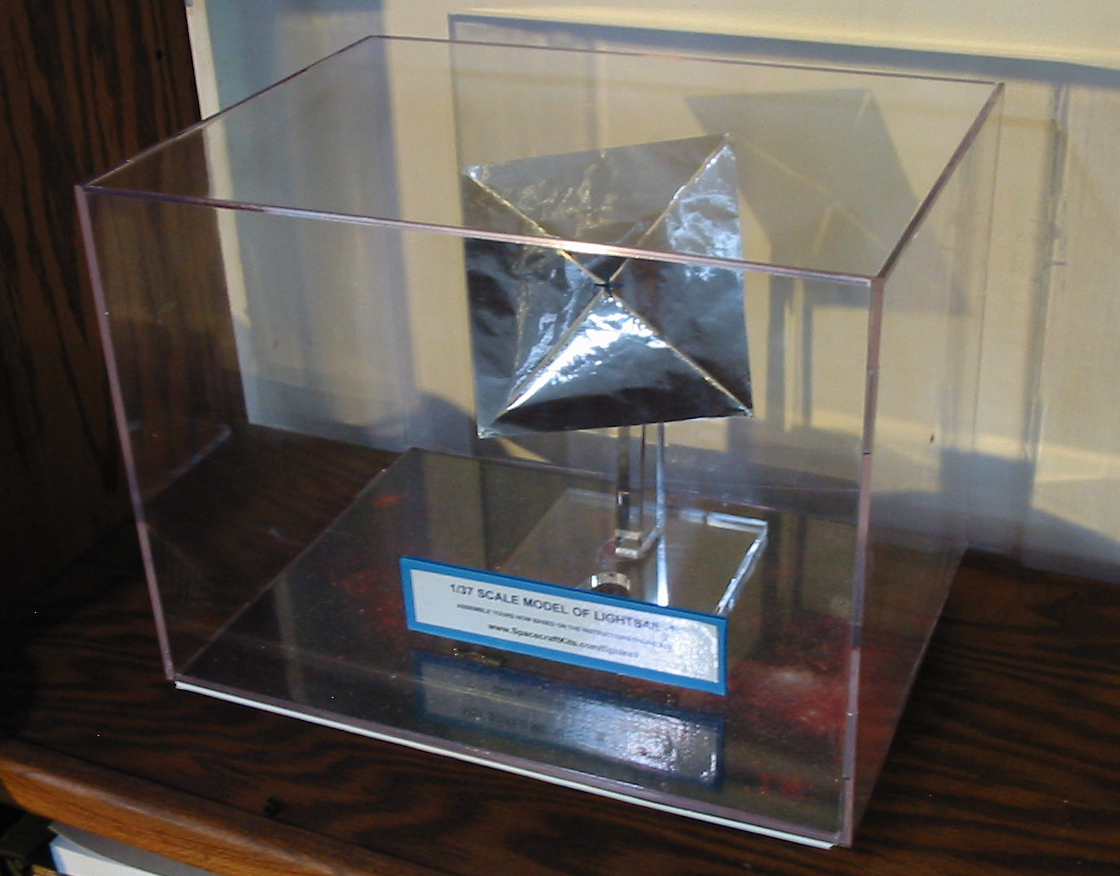 LightSail-1's upper CubeSat module contains all the spacecraft-control subsystems, and has four photovoltaic panels hinged to it, each of which are folded down against the 3U stack during launch. Its two lower CubeSat modules contain the sails and deployment mechanisms.

The spacecraft's four triangular sails deploy into a generous 32 square-meter diamond pattern, as you can see in the artist's conception above. You might have to click the picture to enlarge it enough to see the 3U CubeSat spacecraft at its center. The sail is 5.6 meters on a side—that's more than eighteen feet.

Making a scale model of such a huge sail and tiny spacecraft means your model's 3U spacecraft module, in the sail's center, is going to be very small. So that real solar sail material can be made available, each model's overall size has to have limited area. All in all, 1/37 is a good scale; it shows off all of LightSail-1's important components. Plus, you can set it on the shelf beside your 1/37-scale Cassini model for comparison!

So, if you're ready to bring out the magnifying glass and art knife, you can have a remarkably good scale model of LightSail-1; read on. We hope you'll enjoy the unique experience that is before you. Be careful; assembly requires skillful use of a razor-sharp art knife. Kids must have adult supervision.




(A) WHAT YOU'LL NEED
To assemble your scale model of the revolutionary LightSail-1, you'll need the following:
The items listed separately, which you can view here and print.

Space. Set up a well lighted, comfortable work area.

Time. Plan to set aside several hours for unhurried assembly. To achieve the best results with your model, you might want to plan to spend a few hours a day over a period of several days.

Patience. There may be some trying times. For example, it might take several attempts to create the 3U module satisfactorily. But try to keep in mind that extra time and care will eventually pay off with a surprisingly accurate, and handsome representation of what is in reality a complex and revolutionary design. It's a solar sailing spacecraft that will take its place in the history of astronautics.

Adult supervision for any children nearby, to prevent injury from the sharp art knife, sharp-ended wires, and choking hazard-size pieces.
(B) BEFORE BEGINNING ASSEMBLY:
Visit the LightSail-1 Website and learn all about the spacecraft and its mission.

Consider the literature: see the books listed below; search the internet for Solar Sailing.

Read all the Assembly Instructions before beginning work. Don't start assembling until you have a very good idea of the whole process. You might think of ways to improve your model's design.
(C) TO ASSEMBLE YOUR MODEL:
Click on each step below for illustrated step-by-step instructions. Feedback is welcome regarding the model's design and the assembly instructions, especially if you find any errors or have suggestions for improvement. Please use this form.
(D) ABOUT YOUR LIGHTSAIL-1 SCALE MODEL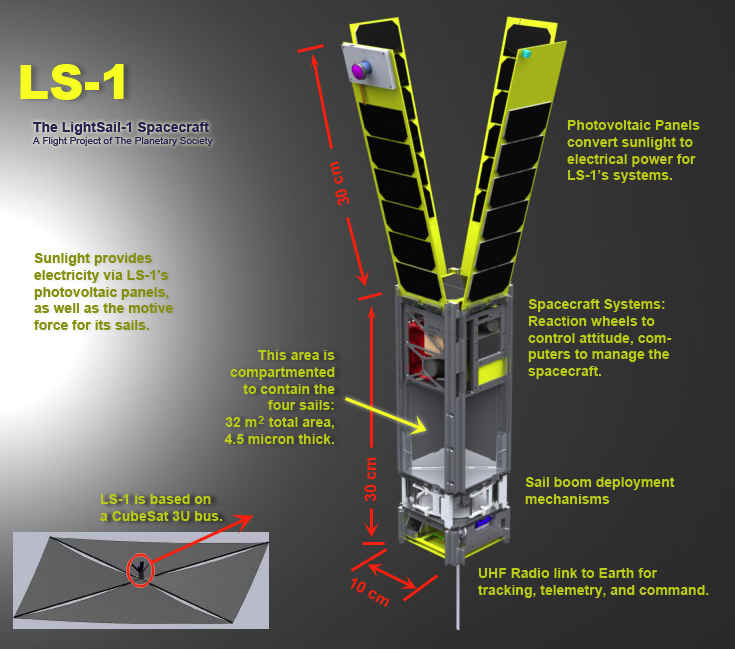 THE LS-1 SPACECRAFT;
CLICK IMAGE TO ENLARGE.

The Planetary Society's LightSail program is helping forge exciting new territory in astronautics. Read all about the physics and engineering of Solar Sailing in these books: While great care has been taken to make your model look very much like the real LightSail-1 spacecraft, the following differences apply:
The aluminum foil sails are far too thick. Consider that the spacecraft's sails are only 4.5 microns thick.

The sail booms on the spacecraft are not solid. They unfurl as a metal ribbon that curls to provide stiffness.

The spacecraft bus, a 3U CubeSat configuration, is rectangular in cross section, wherein your model's 3U is represented by a cylinder.

Take your assembled LightSail-1 model outside and face it toward the Sun. The model's four CubeSat photovoltaic panels aren't producing any electrical power, of course, but the model's sails are indeed reacting to the sunlight as they would in space. The difference is that here on Earth, the effect of light pressure is readily swamped by the mechanical and thermal effects of the atmosphere; in interplanetary space, light pressure prevails.
Designed and contributed to members of The Planetary Society by SCI Space Craft International, Pasadena, California USA.

SCI WAS ESTABLISHED 1987, AND HAS BEEN CONDUCTING SALES VIA THE WEB SINCE 1993.
2010 JULY 8